Impactful Women in Cave of the Mounds History: Part 2
Can you imagine finding a cave in your backyard?
Well, that happened to the Brigham family.
In 1924, Elizabeth Brigham was born in Madison, Wisconsin to Charles Ilsley and Anna Brigham. Fifteen years later, Cave of the Mounds was discovered on her family's farm.
As a fifteen-year-old, she wrote in her diary "We picked eight bushels of apples. The men in the quarry blasted out their rock and opened a cave 27 feet by 15 feet and hundreds of feet long." She was a witness to the early days of the cave as it was literally in her backyard. Luckily for us, she had a daily diary with exciting moments like when her father decided to hire a police officer to protect the cave.
Her mother, Rosanna Gray Brigham wrote in her diary on August 6, 1939: "No police come so Charles Jr. takes his place in the car with his rifle! To tell people they cannot enter the cave. Elizabeth says it is marvelous like a cathedral so shall call it cathedral cavern."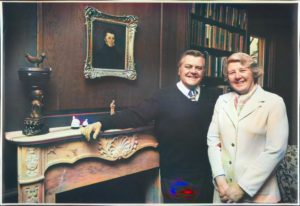 Years later, she graduated West High School in Madison and made her way east. She went to Smith College in North Hampton, Massachusetts. Elizabeth earned a Bachelor's in English in 1945. Then she went on to receive her Masters's Degree in Christian Education from Columbia University Teachers College in New York City. While studying there she met Rev. Edwin J. "Mike" Rooney. She graduated in 1948, the same year she married Mike Rooney. They moved all along the East Coast before returning to the Brigham Farm.
In 1972, they returned to Elizabeth's hometown and started to operate the family business, the Cave of the Mounds. Although Elizabeth Brigham Rooney ​had been associated with the Cave of the Mounds since its discovery, it wasn't until she came back as an adult that she became one of the impactful women in our history.
When she did come back, she had ideas and changes. This was the start of the Education Era.
"When the Rooney's took over the operation of the Cave of the Mounds… they decided that they wanted to maximize the educational potential of this cave." – Anne Bandow, 1979
Programs were being developed for field trips including lectures, audio-visual presentations, experiments in mineral solution, discussions with an expert, observations, and demonstrations of cave exploration and safety techniques. A walking trail was created for people from the city to enjoy the nature around them.
"I grew up here as a child and went to school in Blue Mounds and Madison. I often think about that in connection to this place because as you live on it and work on it and try to make something of it that you become almost identified with it. It's a real closeness." – Elizabeth Brigham Rooney ​
During this Education Era from 1972, scientists entered the cave more frequently than before, field trips have become a destination experience, and people did more than just visit the cave. A restaurant was built, the gift shop remodeled, and eventually, after 12 years of hard work, Cave of the Mounds became a National Natural Landmark in 1988.
"We do feel like caretakers of this place rather than you know, you can't possess something like this." – Elizabeth Brigham Rooney​
Elizabeth Brigham Rooney  is one of the impactful women in Cave of the Mounds history. She will be remembered through the people she has influenced and the many historical documents that we have stored in our archives. We continue to have a variety of educational programs and we are now one of the most researched caves in the midwest!