We have had Senior Photos, Music Videos, Dance Photo Shoots, and more taken place at Cave of the Mounds
For more information contact our Communications &Events Manager, Tate at tate@caveofthemounds.com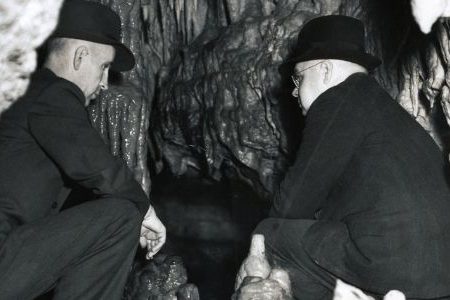 Discovered in 1939 during an accidental quarry blast, Cave of the Mounds was a vision of two locals drawing thousands of people to a small town in Wisconsin. 
Read about the start of this journey that happened over 80 years ago that shook a town.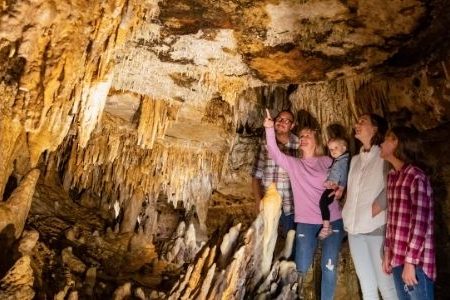 Cave of the Mounds has worked with Geology Departments across the Midwest since its start in 1940.
Today, we continue to work closely with geologists and speleologists, especially the University of Wisconsin – Madison GeoScience Department that have published papers as recently as 2022.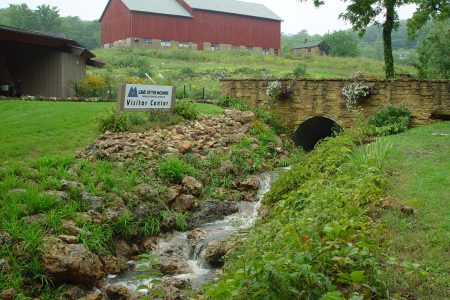 Caves aren't the only place to discover a new world. Explore our gardens, hiking trails, and more with these maps & guides.
Want to take a sneak peek at the cave? There is also a Virtual Tour available and all the signs inside the cave with tons of information.
Commercial Filming and Photo Shoot Permit
A commercial shoot is filming or photography by a person, business, or other entity for an audience with the intent of generating income.
Cave of the Mounds National Natural Landmark is a popular destination for photographers because of the beautifully manicured grounds and gardens. Photography is allowed at no additional charge for personal, noncommercial use while visiting the property or touring the Cave of the Mounds attraction. A permit is required for posed/formal photography, commercial photography, filming, and associated sound recordings for above-ground use only. Private cave
rental is available for those wishing to take posed or commercial photographs, film, and associated sound recordings underground in the cave environment. Permits are issued to ensure the protection of resources, to prevent significant disruption of normal visitor use, or when props, models, professional crews and casts, or set dressing are involved. Permits are required for access to areas before or after normal visitation hours.
Frequently Asked Questions
Photography Permit: DOCX | PDF
Please submit this Photography Permit to tate@caveofthemounds.com. If you have questions about the permit or want to do a commercial photography/ film shoot, please contact the Communications and Events Manager, Tate at tate@caveofthemounds.com
DAILY one-time use above ground permit – $30. Photographers must have a permit for each individual photo session or shoot with each client. Mini shoots are considered multiple sessions and require an annual photography permit.
ANNUAL above-ground photography permit – $300 per year. The annual permit allows multiple sessions with different clients in a day or on multiple occasions for one year starting from the permit purchase date. 
Dates and times of your photography shoot(s) must be booked in advance with Cave of the Mounds management. We are open 9-5 daily; after-hours appointments are subject to approval in advance.
Photographers and clients must stay on trails or lawn areas at all times. No walking into garden beds, climbing rock walls, climbing trees, or going off trail.
There is no access to buildings that are not open and available to the general public. If approved to photograph after hours, please plan accordingly as restrooms will be closed.
You may not use props that are otherwise not allowed at Cave of the Mounds—for example, no pets in the gardens. Allowable props may only be placed on lawns and trails–not in garden beds or off-trail. Props may not be left unattended.
Please do not trample, pick, or collect flowers, leaves, branches, or rocks anywhere on the grounds or in the gardens.
All photographers and clients must follow guest etiquette. Guests visiting the property for the purpose of touring the Cave of the Mounds attraction are free to use any area at any time. Areas cannot be reserved, and photography does not take priority over other guest activities.