Explore a unique destination in Wisconsin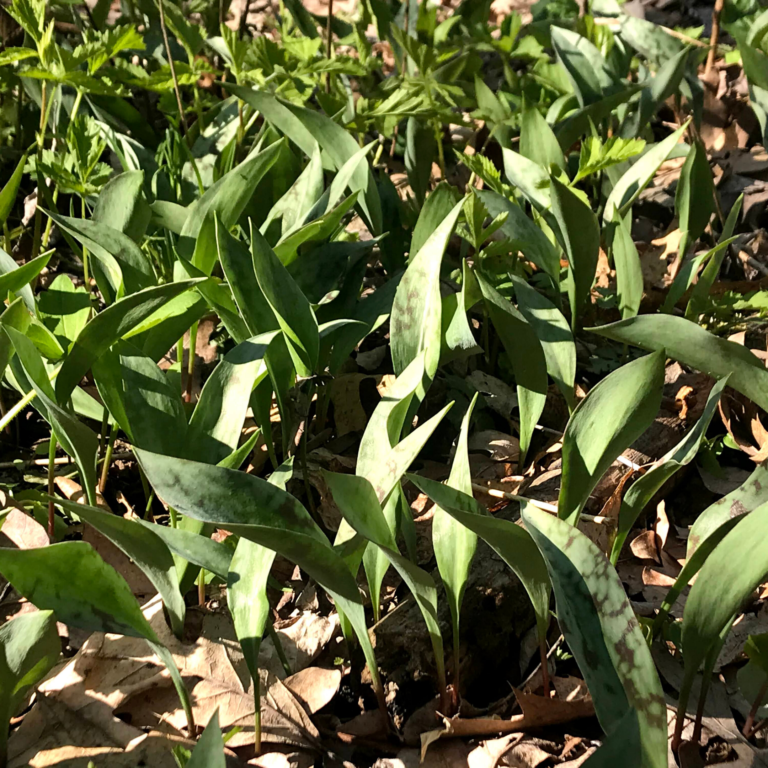 Cave of the Mounds is proud to support the ecological restoration of prairies and oak savannas through eco-friendly land management practices such as a bi-annual fire to prevent the spread of buckthorn, honeysuckle, and other invasive trees and shrubs. Next, we limited to zero garden water use to support the dry prairie type, prairie plant propagation & seed collection. Likewise, the Prairie Demonstration Gardens behind the Visitor Center is where the seeds of native wildflowers are collected for use in future planting in our prairie. In addition, the oak savanna along the Oak Valley Loop of our interpretive trails is being restored by the removal of invasive plants such as garlic mustard and by slowly replacing the non-native trees & shrubs with grassland species that would have likely grown in the original oak savannas of Southwest Wisconsin.
When Ebenezer Brigham first settled here in 1828, prairie and oak savanna covered much of Southwestern Wisconsin. Today at the Cave of the Mounds, the variety of plants that made this area so unique may be found in our ongoing prairie and oak savanna restoration projects. Consequently, birds, butterflies, and many other animals and insects make their homes in these diverse environments. We invite you to explore the gardens and identify these unique and beautiful plants.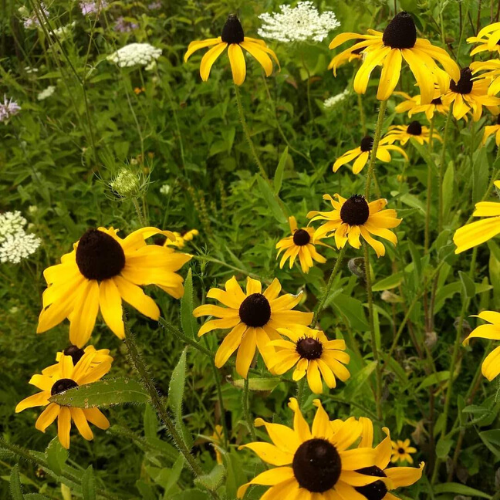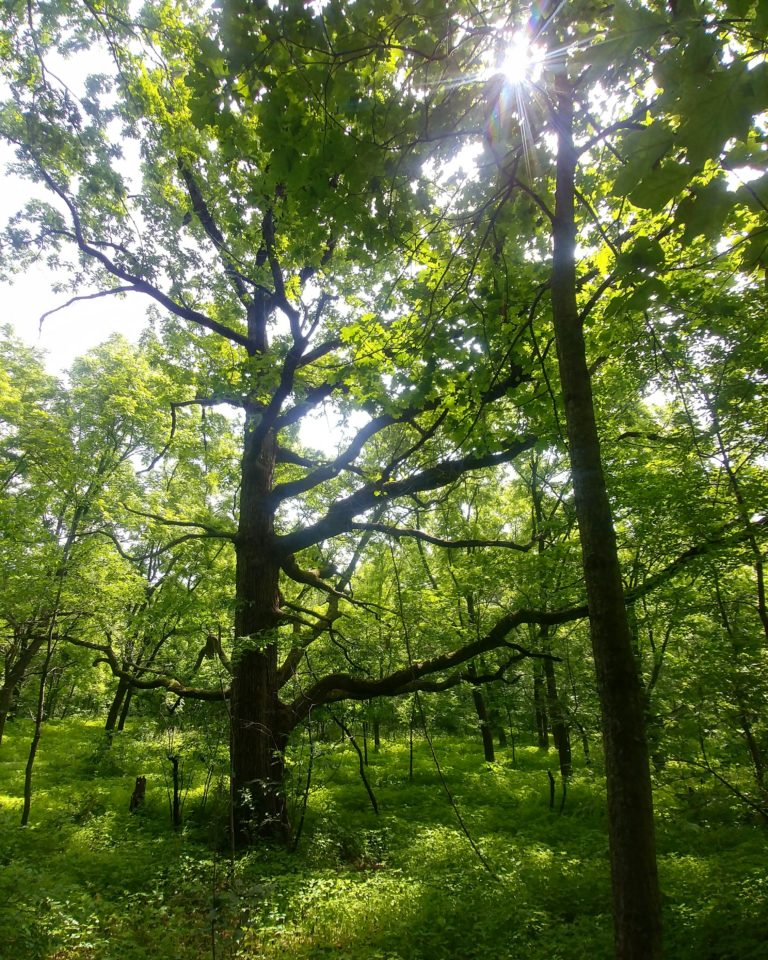 Some of the oak trees in our woodlands are estimated to be over 200 years old. Species of Burr Oak, White Oak, Red Oak, and Black Oak all reside here. Certainly, these majestic trees are a valuable resource, but oaks are slowly disappearing from our woodlands. Meanwhile, when oaks are harvested or die of natural causes, they're often replaced by other faster-growing tree species. Oaks produce acorns, a portion of nourishing food for white-tailed deer, turkeys, squirrels, nuthatches, woodpeckers, and a host for birds and mammals. Oak Regeneration, an important management tool, encourages the survival of these trees. However, there is intense competition from many trees, shrubs, and plant species can make this job difficult. Controlling this competition and monitoring oak seedling development are important steps in this process. Therefore Cave of the Mounds has a team who puts in a  great deal of effort to regenerate our oak woodlands.
Since the Cave of the Mounds first opened to the public in 1940, our gardeners have been hard at work cultivating a stunning array of perennial flowers. In fact, nature provides a dazzling array of blooms from early spring through late fall among the many interesting rock formations found naturally in this area – combined with specialized plantings designed to "catch" water. We invite you to wander the gardens that have been lovingly tended for generations.
The Karst View Trail provides visitors the chance to learn a bit more about karst topography and Wisconsin caves. For example, sinkholes are the highlight of this trail, including those above Cave of the Mounds, as well as several separate systems. These are a sign of Karst Topography.
Karst View Trail access begins southwest of the Visitor Center. Trail difficulty: easy; Trail length: approximately 1/2 of a mile.
Explore this unique destination in Wisconsin
The Oak Valley Loop trail provides visitors with experiences in savanna woodland forested habitat where birds and small mammals abound. In fact, this piece of land was purchased in cooperation with the Groundswell Conservancy and remains protected as a conservation easement.
Oak Valley Loop access begins southwest of the Visitor Center. Trail difficulty: moderate; Trail length: approximately 1/2 of a mile.