Travel Above & Below Ground
SOMETHING OLD BELOW GROUND
Over a million years ago, deep beneath the ground, Cave of the Mounds began to form. Water gradually dissolved the rock to create this magical underground world. A tour through Cave of the Mounds is an experience you and your family will never forget. In fact, people often return to the Cave again and again, bringing back family or friends to share in this amazing experience. 
The United State Department of the Interior designated Cave of the Mounds a National Natural Landmark because the site possesses "exceptional value as an illustration of the nation's natural heritage and contributes to a better understanding of man's environment." Commonly referred to as the "jewel box" of America's major caves, for the variety and delicacy of its formations, Cave of the Mounds is recognized by the Chicago Academy of Sciences as "the significant cave of the upper Midwest."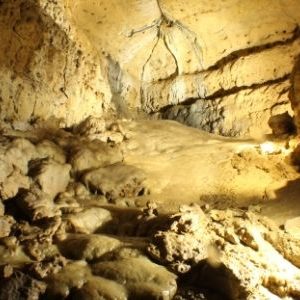 A tour of the cave takes you past a varied collection of colorful stalactites, stalagmites, columns, and other formations. You and your family and friends can experience this natural wonder from the comfort of paved and lighted walkways. Their experienced guides will delight you with tales of the history, science, and imagery of the various caverns and passageways you walk through.
SOMETHING NEW ABOVE GROUND
The experience doesn't stop below ground. Above ground, visitors to the Cave will find an array of activities to keep young and old alike entertained. Visit their unique Rock Ship which contains hundred of minerals, fossils, and gemstones. Many are hand-crafted into beautiful items for your home. Or, try their Gem Mining Sluice and learn to identify gemstones and fossils while filling our pockets with our newly discovered treasure.
You can enjoy something to eat in their beautiful picnic area. Bring your own food, or buy something tasty from the Snack Bar. Afterward, you can walk the grounds and enjoy the rock gardens, prairie, and savannah areas. Identify flowers and watch butterflies float past your eyes!
Come and experience Cave of the Mounds! Both above and below ground you will find something to amaze and delight you!
Tours of Cave of the Mounds are available year-round. They also offer a variety of group and school programs.
The Cave is located just 20 miles west of Madison, and only a few miles from Mount Horeb, off U.S. Highways 18/151. Located at 2975 Cave of the Mounds Road, Blue Mounds, WI 53517