The most significant cave in the upper Midwest, a National Natural Landmark, Cave of the Mounds lies just off U.S. Highways 18/151 in Blue Mounds.
The United States Department of the Interior designated Cave of the Mounds a National Natural Landmark because the site possesses "exceptional value as an illustration of the nation's natural heritage and contributes to a better understanding of man's environment." Commonly referred to as the "jewel box" of America's major caves, for the variety and delicacy of its formations. The Chicago Academy of Sciences recognizes Cave of the Mounds as "the significant cave of the upper Midwest."
As the colorful petals fade and disappear, a new beauty emerges. In the opening spaces, we see butterflies and insects flutter about on the remaining flowers while preparing for their upcoming migration or hibernation. The birds too know that cooler times are coming. They race from flower to flower, enjoying the bounty of seeds and easier-to-spot insects. And the team here at Cave of the Mounds begins to look forward to our favorite fall and winter plants and phenomena.
A tour of the Cave takes you past a varied collection of colorful stalactites, stalagmites, columns, and other formations. The main cavern began a million years ago as acidic water dissolved the limestone bedrock far below the surface. As Cave of the Mounds staff like to point out, geologic time is mind-boggling. It is difficult to imagine the time it took for the large caverns to be dissolved out within the rock that is itself believed to be over 400 million years old!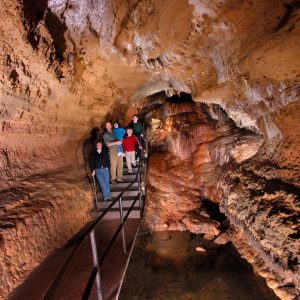 Tours of Cave of the Mounds are available seven days a week, all year long. 
The rushing water of an underground stream formed a lower meandering portion of the Cave. The contrast between the chemical and mechanical processes of cave formation is one of the geologic lessons illustrated on the tour.
In summer, people who come to Cave of the Mounds appreciate the constant 50-degree temperature. They also like the park-like grounds with picnic areas and rock gardens. Winter visitors can take advantage of the cave's comparative warmth because the Cave is also open all winter.