Top 10 Geological Sites to Visit in Wisconsin
Cave of the Mounds is considered the Jewel Box of America's Show Caves and is one of the most researched caves in the midwest. This is a unique place to visit in Wisconsin. Located just 20 miles west of Madison, this cave has been researched by the Wisconsin Speleological Society, UW- Madison GeoScience Department, and other notable organizations. Throughout the cave, intricate formations are hanging from the ceiling or building up from the ground. Cave of the Mounds was designated a National Natural Landmark by the United States Department of the Interior and the National Park Service because it is a unique geological site.
Wisconsin's Longest Cave, Crystal Cave was discovered in 1881. This cave has a natural opening that was discovered by two local farm boys while chasing a woodchuck. Its geology is very similar to that of Cave of the Mounds. Like Cave of the Mounds, this is a limestone solution cave, but there are bats unlike Cave of the Mounds. Not just one kind of bat but 4 different species of bats. During Crystal Cave's history, it has been explored by both the Minnesota Speleological Society and Wisconsin Speleological Society. The cave is about 4,000 feet long and is the longest cave to visit in Wisconsin.
This cave opened two years and one day before Cave of the Mounds. Located in Richland County, Eagle Cave is roughly 2,445 feet long. Unlike the previous caves, Eagle Cave is a wild cave. While exploring the cave, there are different levels and subterranean passageways. This is truly a spelunking experience.
Kettle Moraine State Forest
Cave of the Mounds is located in the Driftless Area. It is named this because when glaciers drifted across Wisconsin like a bulldozer, they did not drift in this area crushing our mountains, caves, and other prominent features of the Driftless Area. These glaciers were part of the Laurentide Ice Sheet, which had multiple lobes spreading across the state. Kettle Moraine is where the Green Bay Lobe and the Lake Michigan Lobe met. There are many geologic discoveries to be seen while visiting this area. The Kettle Moraine State Forest has some interpretive materials and a nature center to learn more about this geologic area.
Newport State Park contains coves, beaches, second-growth forests, wetlands, and some trails to observe all these wonders. This state park is located in the Upper Door Peninsula of Wisconsin. A beautiful place to visit in Wisconsin. It was purchased by the state in 1966 and has tons of fossils of various sizes from the Silurian period. That means that these fossils are younger than the fossils in Cave of the Mounds.
This world-famous geochronologic site featuring evidence of multiple glacial movements of advancing and retreating. During these movements, there was embedding into the layers of clay with logs and other forest debris. These layers can be seen today along the lakeshore. Two Creeks Buried Forest is part of the Ice Age National Scientific Reserve. Many geologists, botanists, glacial ecologists, and climatologists have studied this area and it was designated a State Natural Area in 1967.
Within the Driftless Area, Roche-A-Cri Mound was once located in the former Lake Wisconsin. Today it has large mounds of Cambrian sandstone helping it define the edge of the Driftless Area. Within the rock layers, there is evidence of three complete erosion cycles. The significance of this place in reference to the geology of Wisconsin is very unique and became a State Natural Area in 1983.
This lone rock is comprised of quartzite and slate. It is located in Ableman's Gorge State Natural Area. The Van Hise Rock was named after Charles R. Van Hise, the first recipient of a Ph.D. in geology from the University of Wisconsin, and used this formation to explain the relationship of metamorphism to large, folded sequences of rock in Wisconsin.
In Amnicon Falls State Park, there are three different waterfalls. They were created by the geological formation of the Douglas fault. This fault is located below the Upper Falls, crossing the river. A truly fascinating place to visit in Wisconsin. To learn more about this, there is a  guide to the geology of Amnicon Falls State Park is available at the entrance of the park. 
Ice Age National Scenic Trail
Much of Wisconsin's geology is based upon its glacial past. This trail is no different. The Ice Age National Scenic Trail outlines the most recent glacial impact on the state and leads by forests, prairies, lakes, and rivers. There are also geologic features to be seen like kames, drumlins, eskers, and more. Along the trail, there are many places to enter.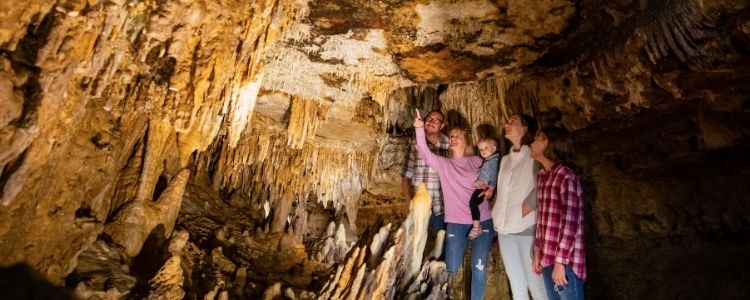 Learn More:
Dickas, Albert Binkley. 101 American Fossil Sites You've Gotta See. Mountain Press Publishing Company, 2018.
Dickas, Albert Binkley. 101 American Geo-Sites You've Gotta See. Mountain Press, 2012.
Dott, Robert H., and John W. Attig. Roadside Geology of Wisconsin. Mountain Press Pub., 2006.
"Landscape and Geology – Ice Age Trail." Ice Age Trail Alliance, 29 Oct. 2020, www.iceagetrail.org/ice-age-trail/ice-age-trail-landscape-geology/.
"Wisconsin State Natural Areas Program Roche-A-Cri Mound (No. 183)." Roche-A-Cri Mound State Natural Area – Wisconsin DNR, dnr.wi.gov/topic/Lands/naturalareas/index.asp?SNA=183.