The Early Years: Brechler and Hanneman
Cave of the Mounds is the Jewel Box of America's Show Caves for its intricate and varied formations. It is important in Wisconsin History. Guests can walk through the cave with ease along concrete pathways. Lights shine throughout the cave making it easy to see many of the nooks and crannies. As the cave gets closer together, there is a man-made tunnel built to look into the cave as to not damage the formations in the tighter areas. Most of this work was done in the first few decades of the cave's opening.
The cave was first discovered during a quarry blast on August 4th, 1939. The cave was beautiful and the farmer who owned the quarry, Charles I. Brigham, wanted to protect it as much as he could. However, what could he do with the cave in his backyard?
Left to right: Carl Brechler, Mrs. C.I. Brigham, Mr & Mrs. Walter D Caldwell & daughter Duane, Stacy Collins, Fred Hanneman.
Mrs. Caldwell was the cave's 1,000,000th visitor (July 8, 1952)
On September 16, 1939, Mrs. Charles I. Brigham wrote in her diary,
"In the evening, Mr. Hanneman and Brechler come to see about Mt. Horeb Chamber of Commerce taking over the cavern."
Fred Hanneman and Carl Brechler
The two men, Carl P. Brechler and Fred H. Hanneman became developers of the Cave of the Mounds. This was a huge moment in Wisconsin history. Despite the Cave of the Mounds bringing in 59,000 people in the first 27 weeks of opening, many people thought they were crazy for sinking their money into a hole in the ground. These men were not famous developers or had done anything like this before. As to the reason why they decided to do this, only they would know. 
Mr. Brechler was a bank teller and Mr. Hanneman was a band teacher at the local high school in Mount Horeb. Neither one of them was originally from the area. Brechler was from Fennimore and Hanneman from Winneconne. They both arrived in Mount Horeb in 1919 within hours of each other. They were both members of the Mount Horeb Chamber of Commerce. After the cave was discovered, both their lives changed.
Before they could open the cave up to the public, they had a lot of work ahead of them. There was all the rock and rubble from the blast that they had to remove. They built all the handrails and walkways. Minimal lights were added. And finally, a Cave Entrance Building had to arise before the opening of May 1940, just 9 months after discovering the cave and less than 8 months after signing a lease.
After signing a lease to take over the development and management of the cave, Brechler and Hanneman continued to work their day jobs and then work on the cave until midnight. Shirley Martin, Carl Brechler's daughter said, "My dad would work at the bank. The bank closed at noon. He was home for lunch. And then went back to work. Then it closed at 4 o'clock. And then he was back at home again." She continued, "They both had to work. They had their jobs, And so, the workmen were working during the day, carrying out. But they would both go out and work until midnight at night, come home, go to their job the next morning, go to the cave, carry rocks."
These underdogs worked tirelessly because they knew this treasure was worth the effort. They hired archeologist, writer, and lecturer, Alonzo Pond to help manage the cave for the first 5 years of being open (1940 to 1945). In 1941, Cave of the Mounds had the 2nd highest attendance of any show cave in the USA. Carlsbad Caverns was first. A fun fact about Wisconsin History.
Cave of the Mounds was open from 7 AM to 7 PM (Eventually it was open from 7 AM to 10 PM). Then Brechler and Hanneman would do their closing work for the day. This schedule would repeat 7 days a week.  After 4 years, the men retired from their day jobs to manage the cave fully.
While managing the cave, they transformed it for the better. The Cave Entrance Building we use today was built in 1942 and designed by C. G. McTaggert of Mount Horeb. In 1945, a mine shaft was constructed to build the man-made tunnel we use today. Concrete pathways were poured bucket by bucket and were completed by the end of 1946. At this time, they also added metal handrails. By 1957, the tunnel was complete. We have not done any large changes to the cave tour since this time.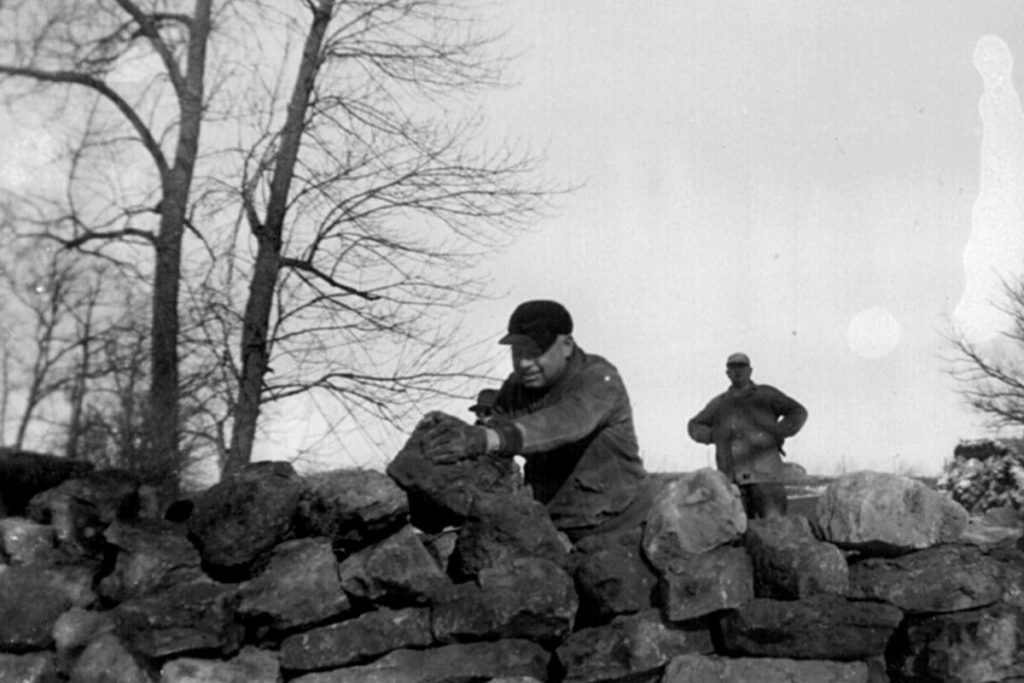 Photo Courtesy of Shirley Martin
Postcard featuring Shirley Martin
Now that we know all the facts and figures, who were these men that changed the lives of so many people affected by the Cave of the Mounds. I talked to Shirley Martin, Carl Brechler's daughter to get some insight. To be honest, as someone who loves history and has dove into the Cave of the Mounds history headfirst, I was a little starstruck. She has been so influential in our history and has continued to help us document it. In our Information Video, she is featured in it, as well as the 75th-anniversary Q+A, recorded by the Wisconsin Historical Society.
We sat down to talk about Mr. Brechler and Mr. Hanneman and I learned a lot about these remarkable men.
"Two different types of people completely. My father was at the bank and Mr. Hanneman, of course, was a music director."
"How did they meet to go forward with this venture?" I asked.
"They were both charter members of the chamber here in Mount Horeb. I think maybe, my dad was treasurer. And Mr. Hanneman. That's how they met. Why they got together and said we should go talk to the Brigham's, I don't know."
We continued to talk about the early days and the hard work they put into creating this natural wonderland that people could easily access. One thing that Shirley could give me that the countless documents I have read could not, was their character. Who were they?
"Mr. Hanneman did a lot of the buying." Shirley said, "My dad did the bookkeeping and that kind of thing. If somebody had to be fired, my dad had to do it. Mr. Hanneman wouldn't do it. He walked away."
Another thing I learned was that you do not call Mr. Hanneman "Fred", he was always "Mr. Hanneman". And I can spot Mr. Hanneman in many different photos because he was almost always in a stylish hat. Mr. Hanneman was known as both a composer and musician. He was the organist at his church and gave music lessons on the second floor of a garage. He became the city band director of Mount Horeb and a bandleader in Elkhorn. His talent as a performer, composer, and instructor of music was recognized by all. He is featured a couple of times in a magazine about Wisconsin History.
"Fred was kind of quieter than my dad. You didn't pull any jokes on Fred. My dad was with the guides all the time, he kind of ran the guides. And he was happy with them. He was a friend. They could joke." Shirley said.
The job they did was certainly not a 9 to 5 job. They brought work home and their families would help out.
"…If you weren't busy, my mother or my dad would tell you to go do postcards. And all winter we would put 10 postcards into an envelope. 10 for a dollar." Shirley explained.
Fred H. Hanneman and Carl P. Brechler
Eventually, Shirley would start working at Cave of the Mounds as her first job.
"In 8th grade! I had no choice. We always said there was a lot of free labor. I was at the pop stand and it was one of those square, oblong tables with cold water in it with ice. And it was all pop bottles. And you had to open them with an opener. You had to learn your pop bottles by the cap on the top because you were looking down on top of it. So we put ice in there early in the morning, that's how we cooled it." Shirley explained, "Well eventually you did more. You got wonderful jobs. Nobody has lived until they have cleaned an 8-hole outhouse."
As Shirley got older, she worked the counter, gave tours despite being claustrophobic, and helped manage the Cave of the Mounds.
In 1973, Mr. Carl P. Brechler and Mr. Fred H. Hanneman retired. Their impact on the cave remains to this day as people walk on the cave's concrete floors or as they peer into the cave while standing in a man-made tunnel. When guests walk around, their images are everywhere from the historic timeline in the Visitor's Center to a sign in the man-made tunnel. We will not forget these two underdogs and the fact that they put their money "into a hole in the ground". We are thankful to them and their families that helped them along the way. They are truly an important part of Wisconsin History.
Photos Courtesy of Shirley Martin
"It just changed our whole life." – Shirley Martin
Thank you to Shirley Martin for sharing her memories with me. Also, thank you the Driftless Historium for allowing me to research their archives and see Wisconsin History!