Unique Building Explained
The dodecagon-shaped building is the first stop of any guest's journey. It is the place where tickets are sold and where the only restrooms on the property are available. Today it is called the Visitor's Center. It houses a nature-inspired gift shop and in the middle hangs a large, metal, and fabric sculpture illustrating a stalactite.
However, this building has changed over the years. Constructed in the late 1970s, this building was designed by local architect Lloyd O. Krueger. He also designed the Holy Name Seminary on the UW-Madison Campus and the Ridgewood Pool on the west side of Madison. The layout for this building was also used for a pavilion in Brittingham Park in Madison.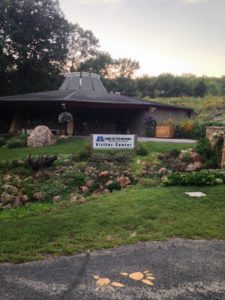 Originally this building was built as a restaurant named "The Runestone". It opened in June of 1979. The official opening was August 4th, 1979, the 40th anniversary of when Cave of the Mounds was discovered. At this restaurant, they served food like burgers, fries, chili, hot dogs, Garden Greens Sandwich, Fruit and Cheese, and of course, soft-serve ice cream.
By the 1980s, "The Runestone" had changed hands and it became "The Brigham Farm" named after the original owners of Cave of the Mounds. A description of the Brigham Kitchen is written on the back of one of the Cave of the Mounds postcards and it reads "Ginny & Clint Johnston Homemade food is a specialty in this lovely restaurant. Wide windows afford a panoramic view of woodlands, birds, and flowers."
Once the restaurant was proven not of great value, it became the Visitor's Center. Over the years, desks have been built, merchandise changes and a Penny Press has been installed. This building will continue to change as needed. We look forward to what will happen next in this unique-shaped building.