Top Valentine's Day Gift Ideas
Valentine's Day is just around the corner and, I don't know how you feel but time has flown by these past few months. That's why we want to help you find something for your loved one or something to treat yourself with this Valentine's Day.
Cave of the Mounds Experience
It should come as no shock that our first gift idea is the gift of a cave experience! Over the past year, through shutdowns and restrictions, Cave of the Mounds has been here, keeping up with local guidelines to make sure both our guests and staff are safe.
Our beautiful cave is considered the Jewel Box of Midwest Caverns. We are open daily, all year long.   Our cave is warm in the winter, cool in the summer at a constant  50°F/10°C temperature.
This gift can be used for a year after purchase. This means you can come in the winter when we aren't too busy for a nice quiet stroll through the cave or in the summer when our gardens and hiking trails are open.
February Valentine's Day Special
This year, February 2021, we have a Valentine's Day Special. Give the gift of nature's treasure, a geode! This gift includes two geodes, one for yourself and one for your valentine to crack open at home. 
Geodes are always a good gift. Breaking open a geode gives the thrill of not knowing what's inside. You get to be the first to behold what's inside this rock that no one has ever seen. Plus it's a great way to relieve stress by breaking open a rock.
If you want to learn more about geodes to impress others with your knowledge or want to know how easy it is to break a geode open, check out our informational video here.
Give a rose that won't wilt. We have Rose Quartz in many types of varieties from bookends to candle holders to our perfect Valentine's Day gift of rose quartz in a heart-shaped container.
Rose Quartz is said to be the stone for love, which is perfect for Valentine's Day. It is a variety of quartz, which has a pink or rose color that is caused by manganese or titanium within the quartz.   When this mineral forms, it usually doesn't have distinct crystals. It is believed to be very powerful for increasing love and compassion, healing emotional wounds, forgiveness, and happiness.
The rose/pinkish color corresponds to the heart chakra.
Cave of the Mounds Wine Glasses
Cheers to making it through this last year with these Cave of the Mounds wine glasses. They are tall wine glasses that can hold half an average bottle of wine comfortably. Its elegant stem adds style while the blue base adds a vibrancy.
Whether it's with wine or sparkling grape juice, these glasses will make any occasion special. Use these glasses all year long starting on February 14th. Toast to love, life, and to creating special moments.
We also have Pilsner's that hold 16 oz. of liquid (an average can of beer).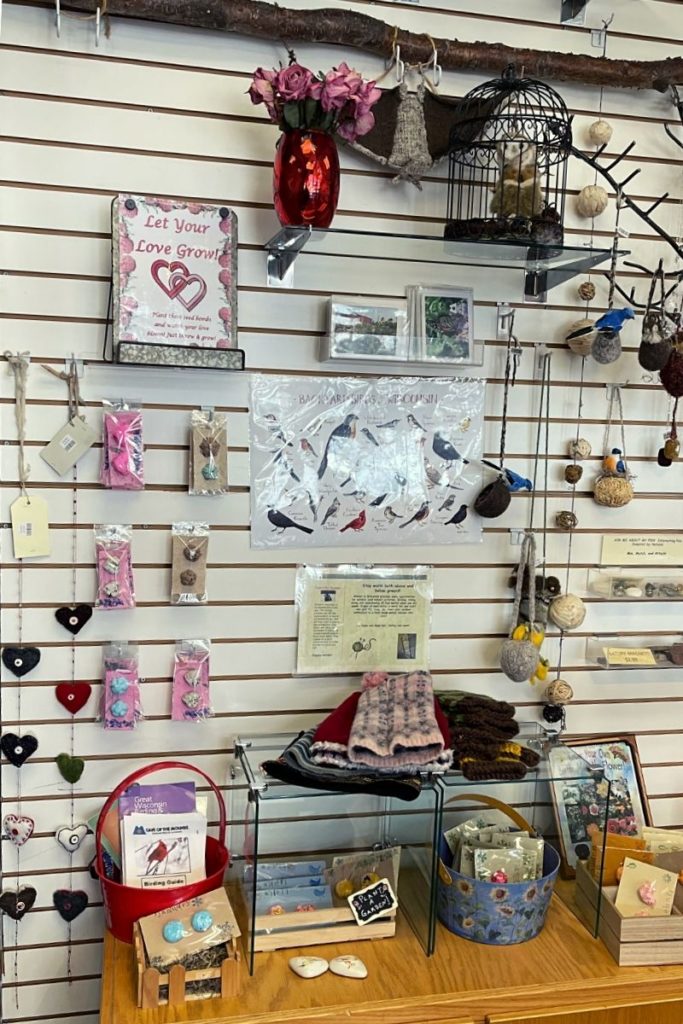 Homemade Gifts and Garden Related
For those who have visited Cave of the Mounds in the summer, you may recall our prairie restoration garden. In the winter months, our garden team makes sure you have access to our native seeds with seed pods! This month, they are mostly heart-shaped, so let love grow! Plant our homegrown Wisconsin native seed mix and watch your prairie grow and bloom.
We also have handmade heart decorations, home-sewn hats, and carefully crafted mittens. Let your loved ones know they are unique with a gift that is one of a kind!
Selenite Heart-Shaped Candles
This heart is on fire! Literally, it's a heart-shaped holder with a removable tealight candle in the center.
Selenite is a beautiful stone. It is a transparent and almost colorless gypsum crystal.  Gypsum is a member of the satin-spar crystal family, which includes Aragonite and Calcite.
The heart-shape is perfect for a gift on Valentine's Day. This candle is not too small and not too big or heavy so it can be placed almost anywhere.  It's a great addition to a gift or you can buy multiple for a bold statement.
"Wisconsin Bucket List" by Kelly Jo Stull
This book is filled with adventures to have a real Wisconsin Experience. Give a book of ideas for future date ideas, weekends away, or a mental break from working at home.
Written by Kelly Jo Stull who is a native and explorer of Wisconsin. She is also the author of this awesome book. In the back is a checklist to mark off each activity you have completed, keeping track of all the exploring you will do.
Cross #53 off your Wisconsin Bucket List by visiting Cave of the Mounds!
February Birthstone: Amethyst
We must include this gem as it is the February birthstone. It is also one of the most popular rocks in our gift shop.
Amethyst is a mineral that is a variety of crystalline quartz (silicon dioxide) with traces of iron.   Amethyst forms crystals that are found as crusts lining holes in volcanic rock. Crystals are hexagonal and translucent and range from light violet to a deep purplish-red. 
Amethyst is a popular gemstone used in jewelry. It is found worldwide but is commonly found in Brazil and Uruguay.
It is believed it increases vivid dreams, enhances peace, and love, fosters one's intuitive capacity, and higher spiritual aspirations.  The purple/violet color is supposed to be very cleansing and healing.