Top 6 Ways To Prepare For Your Underground Adventure
Planning a visit to a show cave near you or during your next vacation for an underground adventure? New adventures need some forethought.- especially when traveling with children. Here are some common ways to prepare – and important things to know – before you descend into the hollows!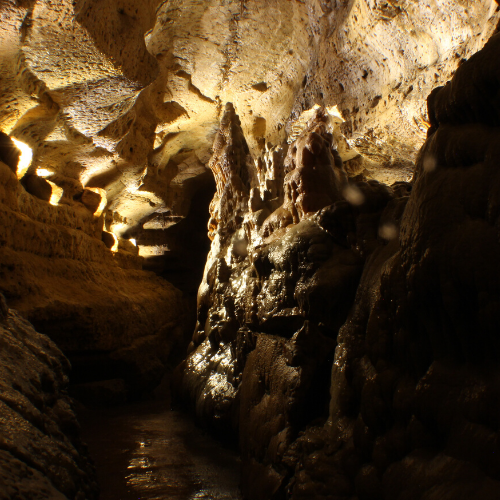 1. Use the restroom BEFORE the tour
Even if you think you do not have to "go" there are likely no restrooms inside the cave… and the sounds of water along the trails often add to the challenge." This is especially important with little ones." says Jan Okeson, Customer Service Manager at Cave of the Mounds in Wisconsin. "We often encourage our youngest guests to "empty their tank" before the tour," which can make this ordinarily annoying task seem important and fun. "There's nothing more frustrating than getting halfway through the tour and having to leave the cave early because a restroom visit is needed," adds Okeson. A fresh diaper will go a long way, too.
2. Fuel up BEFORE or AFTER the tour
A majority of show caves do not allow food or beverages – other than plain water – along the underground passageways. Sugars and nutrients in food and beverage that drop or spill in the cave can cause mold and other undesirable substances to grow, and of course, there are wrappers and containers to deal with. "Litter can be a big problem in show caves when gum, candy, food, or beverage is allowed, so we just ask that our guests refrain from that during the tour," states Okeson. Most show cave parks have picnic areas with trash and recycle receptacles, and some have shelters and even campgrounds.
3. Plan NOT to pack it in
Large bags and backpacks of all kinds are generally discouraged when taking a tour of a show cave for your underground adventure. "Typically, a show cave tour will be of a length that does not require the need for personal supplies or food," suggests Okeson. "The passageways of most show caves have some areas that are more fragile than others, so backpacks and large bags that rub against the cave walls can physically damage the cave environment." If bringing a baby, most show caves will ask that soft-sided, front-facing baby carriers are used, often not allowing hard-framed baby "backpacks." Additionally, strollers typically do not fit on narrow cave passageways.
4. Charge up for GREAT memories
Caves are highly visual experiences and most show caves will allow guests to take photos during their underground experience. "Using a flash is sometimes a restriction, as some show caves have wildlife that is specially adapted for dark environments," cautions Okeson. Be sure you know what the guidelines are before you take any photos. "Tripods and selfie sticks are usually also restricted in show caves due to the closer quarters underground and therefore a greater risk for damage to the cave."
Show caves are a great family experience that can go a long way to expose children to the wonders of nature while inspiring new environmental stewards. Most show caves do not allow the touching of any rocks or formations in the cave in order to protect the fragile nature of these environments. Additionally, since caves are underground, they are naturally devoid of light. While most show caves have elaborate lighting installed, sometimes it is helpful for families to bring a small flashlight for their children to hold along the tour route. "Children who have their own source of light are more likely to discover things they might not otherwise notice, and, it gives them more control over their experience," offers Okeson. As in any unfamiliar environment, parents always need to be responsible and extra aware of their child's behavior and whereabouts during the tour.
Caves are subterranean environments that typically maintain the annual average temperature of the above-ground region that which they are located. "So, our cave, which is located in Wisconsin, has an average temperature underground of 50 degrees, which may make a guest opt for a light jacket," says Okeson. This makes for an adventure in itself in the northern states as caves are typically cool in the summer and balmy in the winter. Closed-toe shoes, such as tennis shoes, are also recommended because most cave environments are damp and cool.
Soak in the surprises around every corner, ask questions and use all your senses on your next underground adventure. Caves are COOL! Remember to learn all you can about these unique natural environments, and share that information with others, to ensure that these distinctive natural treasures – our caves – can and will continue to develop and be protected.