From Clueless to Inspired: Gift Ideas 2022
Before purchasing a gift, think about the person you are purchasing it for. What are their interests? What do they find enjoyable? What is something they will cherish and not throw away? At Cave of the Mounds, we have two buildings with many different items to choose from. Right now, natural is in. Rocks to accent the home are found in interior design magazines like Architectural Digest and TV Shows and Movies. And the love of rocks does not fade as someone gets older. We find people day after day become excited when entering our store no matter the age.
To help in finding the right rock for the right person, I've created very general ideas based on my own experiences purchasing gifts for a variety of people. I hope this helps spark ideas for your special person in mind.
The observer likes to look at rocks up close. They notice a rock or fossil's unique properties. Whether it can glow or light can be seen through it or it's shiny which draws the eye, the observer notices and is thrilled when the rock's secrets are exposed.
Fluorite is the first rock chosen for the fact that light can be seen through this rock AND it can fluoresce under a black light. In our gift shop, this rock can be found in a rough form or carved shapes. Fluorite's color can vary from clear to shades of green, yellow, blue, and purple. When under ultraviolet light, it fluoresces or glows. This rock is colorful and versatile. A great gift for the observer.
An adventurer could mean traveling on the weekends, maybe hiking a bit, or traveling the world in a converted bus. This person loves to go somewhere new and tell stories of the adventures they've been on. For this person, I had a lot of options from large pieces of Labradorite that glimmer in the sun's rays making it adjustable to any space to a smoky quartz cluster that tells a story itself, but I chose a Halite lamp. The Halite lamp, though popular, is a rock that is useful and beautiful. 
Although it is commonly known as rock salt, Halite is a beautiful rock and is usually colorless but may be yellow, orange, blue, or pink due to impurities. When turned on, the light is soft with warm tones for a chill vibe when relaxing at home. The color it emits won't clash with most rooms for an adjustable design piece.
A designer is a person with attention to detail when it comes to their living or working space. They like beautiful things but to make them last, they need to adjust to the times. What's more timeless than rocks? However, rough rocks might not due. Instead, rocks can be found on stands or carved into shapes. For example, we have rose quartz in hearts, labradorite in pillars and pyramids, green onyx in vases, spheres, pyramids, tiny apples, bears, etc. There are so many possibilities for rocks to fit a person's personality. This is a great and popular gift.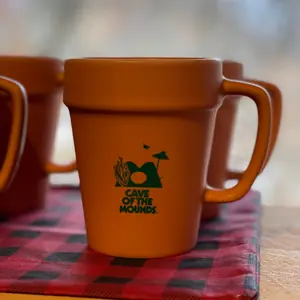 If you are searching for a gift for a gardener, look no further than Cave of the Mounds. We have a beautiful prairie restoration project. Because of this, we have a whole gardening section of items to choose from. There are seeds collected from our gardeners for sale if your gardener is looking to add or expand a prairie garden. Prairie gardens are native to the midwest and great for pollinators.
We also have nooks about animals, insects, butterflies, birds, flowers, and more available to learn more about gardening and the world around gardens. These reference books are great for looking up something real quick. Our garden team uses these books from time to time which is why we carry them to spread the knowledge.
Gardeners work chilly mornings which means they may want a mug for their warm drink in the morning. We have a few different kinds of mugs aimed toward those amazing gardeners. Some are simple and look like a terra cotta pot but others have jokes or a motivational quote to get the morning started on the right foot.
For the Hands-On Experience
There is no better way to learn than a hands-on experience. Take control and learn from doing with the super fun activity of breaking open a geode. This is not just a kid-friendly activity but adults love this too! It is a great stress reliever to smash open a rock and then see beautiful intricate crystals inside. 
To break open a geode, there are many ways to do this. We recommend wrapping the geode in a cloth, so pieces don't go flying, and tap it with a hammer and chisel or flathead screwdriver. This way, it is an easier clean up after the process.
A frequently asked question is what to do after the geode is broken open. How do you display such a fun memory and beautiful rock? This depends on the person but a lot of people will display the largest piece on a shelf, pairing it with other large rock specimens. Some people will put pieces in with their plants or on a bookshelf. Another option is to put the pieces in a glass jar or decorative vase on a shelf.

This activity is not only fun because you get to wield a hammer, but you also get to see what no one else has ever seen before. You are the first person to look inside the rock. You get to discover what kind of crystal clusters are inside. You are the one to keep this rock for as long as you want. You have the power in your hands to decide.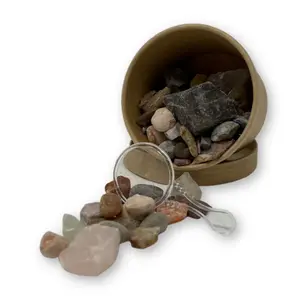 Let's discover something together with this gift. We sell Mystery Rock Kit which is a container filled with all sorts of rocks and fossils but you don't know what's inside until you break the tape. Once it's open it's time to identify. 
The best way to start this is to divide the specimens into piles based on color. There is no right answer for this step. It is up to the person to decide the color as best as they can. But this will help in trying to identify them. This can lead us to other properties to figure out the rocks. Is it magnetic? How hard is it? Does it leave a streak behind if you try and write with it? What color is that streak? Does it glow under UV light? All of these questions arise in the identification process. Another useful tool is an identification card. Here is a link to ours.
Sluice is defined as an act of rinsing or showering with water. Our sluice bags are made here at Cave of the Mounds. They are bags of sand with either rock or fossils in them. Now we have the option to sluice at home.
In our Sluice-To-Go bags, we have included a sluice bag, a sifter to sift through the sand, a bag to put your findings in, a necklace to wear your findings, and an Identification Card to find out what your treasure is. There are three different types of bags, Fossil, Rocks, and Rocks & Fossils (Deluxe).
This may seem messy with the sand but the thought of finding your treasure with people that you care about is a memory many people hold dear. We have a Gemstone Mine here and sometimes people come just to sluice for treasure with their group. It's an enjoyable experience for all ages.
We hope this helps you in your search for the perfect gift. Happy Holidays!